20 Best Literary Gifts For Shakespeare Lovers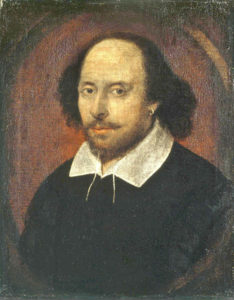 Everyone knows Shakespeare.
William Shakespeare's works have had a profound impact on literature and drama, no matter how many times you have read them in high school.
The Bard is the best Shakespeare fan.
If you are looking for the perfect gift for Shakespeare fans, you're in luck.
There are many Shakespeare gifts, such as jewelry and t-shirts, but also some more unusual, bizarre, and funny options.
We have compiled a list of some of the most popular gifts for Shakespeare fans.
This list has it all, whether you are looking for something classic or unique.Check out the Gifts For Shakespeare Lovers list below now!
Gifts for Shakespeare Lovers
1.
William Shakespeare Action Figure
Just like Jane Austen, this literary hero has been turned into his own action figure. Standing at 5 1/4″ tall, this hard vinyl figure comes with a book and quill, so you can relive the excitement of Shakespeare penning some of his best-known plays. This action figure is perfect for displaying on a desk or bookshelf. For ages 12 and up.
2. The Complete Works of William Shakespeare
This is a must have Shakespeare gift for any fan! If the fanatic you're shopping for doesn't own his complete works, you must buy this for them ASAP! Edited by two Shakespearean scholars, this book includes all of his works, modernized and corrected. When looking for gifts for Shakespeare lovers, this book should be at the top of your list.
3. Romeo and Juliet Book Scarf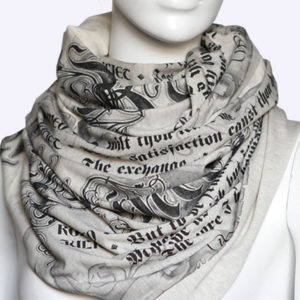 The story of the star-crossed lovers Romeo & Juliet, one of Shakespeare's most beloved plays, is often a favourite among his followers. This infinity scarf features a romantic exchange between lovers and is printed by hand on oatmeal-colored fabric. LiteratiClub also offers Hamlet scarves if your fan doesn't like R+J.
4. Shakespearean Coffee Mug
Give your loved one the gift of enjoying a little Shakespeare with their coffee and tea each morning. These large coffee mugs hold 12 oz. of your favorite beverage and feature Shakespearean quotes on the outside. There are three options available: insults, love quotes, and dirty quotes. Pick the one that fits the personality of the gift receiver. Include a package of their favorite coffee or tea (or even this Shakespearment Herbal Tea) to create a gift bag they'll appreciate every morning.
5. Taming of the Shoe Shakespeare Socks
Socks are a classic gift, often given at Christmas. Take your sock game to the next level with these Shakespearean socks. These knee high socks feature a portrait of William, plus the spines of his famous books. While these socks are marketed toward women, reviewers say they fit men as well.
6. Hamlet Necktie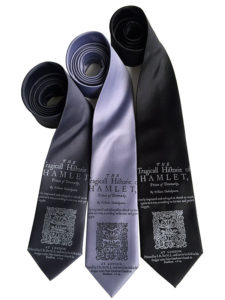 This Shakespeare gift is unique and very classy. Cyberoptix handprinted this tie with the title page of the 1604 edition of "The Tragedy of Hamlet Prince of Denmark", by William Shakespeare. This tie has a vintage, classic look that can be worn at work, in church, or on the streets. You have 5 options to choose from, so you can find the perfect tie for your loved one.
7. Pop Sonnets: Shakespearean Spins on Your Favorite Songs
Some of the most creative gifts for Shakespeare lovers are the ones that offer a fun twist on the style of the Bard. Pop Sonnets takes 100 famous pop songs and reimagines them as Shakespearean sonnets. The book is divided into sections like "Sonnets of Love" featuring Never Gonna Give You Up by Rick Astley and Genie in a Bottle by Christina Aguilera or "Ballads of Heros" with classics like The Fresh Prince of Bel Air by Will Smith and "The Gambler" by Kenny Rogers. This is the perfect gift for music fans that love Shakespeare and iambic pantameter.
8. She is Fierce Shakespeare Quote T-Shirt
One of the most popular Shakespeare quotes comes from A Midsummer Night's Dream: "And though she be but little, she is fierce." This shirt is perfect for any fierce Shakespeare gal (or guy). Made from 100% cotton, this shirt is available in men, women, and youth sizes. Also available as a hoodie.
CHECK PRICE AT AMAZONREDBUBBLE PRICE CHECK
9. William Shakespeare Cookie Cutter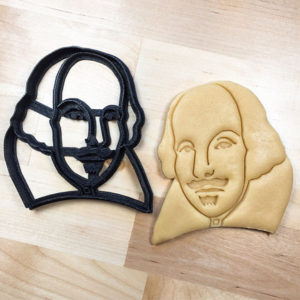 We have the perfect gift if the person you are shopping for is a baker. This cookie cutter measures 4 inches in diameter and creates a cookie that looks like Shakespeare's head. The cutter is 3D printed from ABS plastic and includes details such as hair and facial features. These cookies can be decorated or used warm from the oven.
10. The Play's the Thing Board Game
William Shakespeare fanatics and newbies alike will enjoy this fun game. Each player is an unemployed actor in Elizabethan England. To win you want to assemble all the cards need to perform a scene from Julius Caesar, Hamlet, or Romeo and Juliet. This a great game for theater lovers and real world actors–especially because they can act out the scene once they have all the cards. Definitely, consider this if you're looking for gifts for Shakespeare lovers who enjoy tabletop games.
There are four levels to the game that can be played by players with different levels of knowledge. Two to six players. Recommended for players aged 12 and over.
CHECK PRICE AT AMAZONCheck out more board games for book lovers.
11. Macbeth Quote Cuff Bracelet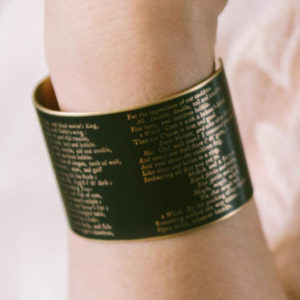 A brass bracelet cuff bracelet makes this a stylish gift. This bracelet features a quote taken from Shakespeare's Macbeth. It uses the text from the 1750 edition. The scene shows three witches sitting around a cauldron, casting spells. This bracelet is black with brass text. This bracelet is perfect for both casual and formal outfits, and Macbeth lovers should have it. Each bracelet is made to order.
12. Shakespeare Magnetic Poetry Kit
Perfect for refrigerators or school lockers, this is a gift that will inspire writerly Shakespeare fans. This Magnetic Poetry set omes iwht over 200 themed word tiles themed after Shakespeare's greatest works. This kit works great on its own or paired with any other Magnetic Poetry Kits. Imagine how creative you could get when combining Shakespeare with Yiddish or Freud.
13. William Shakespeare: An Adult Coloring Book
Shakespeare has made his mark on a lot of things: theater, literature, and now adult coloring books. Illustrated by Odessa Begay, this coloring book includes gorgeous illustrations inspired by Shakespeare's work. This book is a creative stress reliever that brings you into the world of Shakespeare's stories.
CHECK PRICE AT AMAZONDon't forget to get some adult coloring supplies to go with your gift.
14. William Shakespeare Plush Doll
Who needs a teddy bear on their bed when they can have the great Bard himself? This 11″ tall "Little Thinker" doll wears traditional Elizabethan garb, including a ruffled collar. This stuffed doll is the perfect companion to cuddle up to when reading your favorite play or even just display on a book shelf or desk. For ages 3 years and up.
15. Shakespearean Insult Bandages
This is the perfect gag gift for Shakespeare fans and also makes a fantastic stocking stuffer! The bandages come with an illustration of the Bard and some of the most famous insults from his plays. Each tin has 15 bandages, each with a unique insult. These bandaids will add some fun to your boo-boo or can be given as a slight to your enemies.
16. Shakespeare, Not Stirred: Cocktails for Your Everyday Dramas
If you're searching for gifts for Shakespeare lovers who also enjoy a well crafted cocktail, then we've got the perfect present for you! Shakespeare, Not Stirred is a collection of cocktails inspired by the works of William Shakespeare. These include twists on classic cocktails and other fun libations. Enjoy a "Richard's Gimme-Let" or "Lady Macbeth's G-Spot" at your next party. To take your entertaining up a notch, the book also includes tasty hors d'oeuvres based on his characters and plays. Cheers to Shakespeare!
17. Dashboard Genius Shakespeare
Take the inspiration of Shakespeare's work on your next road trip. This fun and springy dashboard Shakespeare bust is a great Shakespeare gift, perfect for a gift basket or a stocking stuffer. Place him on your dashboard and he'll help you ponder, "To be, or not to be?" Have the Bard ride shot-gun and always keep you company.
18. William Shakespeare Deluxe Air Freshener
If you're putting together a gift bag for your Shakespeare fan, this air freshener goes perfectly with the dashboard bobblehead. Featuring the dignified image of Shakespeare, this air freshener smells like what the manufacturer describes as "Shakespearmint." At 4″ tall, this air freshener will look great hanging from the rearview mirror of your loved one's car.
19. Shakespearean Lip Balm Set
If you're looking for gifts for Shakespeare lovers that are practical and fun, check this out. This gift set comes with three Shakespeare-themed chapsticks. Each tube is decorated as either mint flavored Shakespeare, apple flavored Hamlet, and orange flavored Macbeth. This lip balm comes in a decorative box, great for gift giving. It's the perfect size to be a literary stocking stuffer.
20. William Shakespeare's Star Wars Trilogy
What happens when you take the literary stylings of William Shakespeare and combine it with one of the most popular sci-fi stories of all time? Magic! This collection takes the original Star Wars Trilogy and reinterprets it as if written by Shakespeare. What results is a unique, funny, and enjoyable retelling of the classicc space opera. This set includes the originally trilogy: Verily, A New Hope, The Empire Striketh Back, and The Jedi Doth Return. This mash-up is the perfect gift for geeky Shakespeare fans.
19 Best Shakespeare Gifts For Bards Fans
LAST UPDATED ONBYABI JOHNSON
THIS ARTICLE MAY CONTAIN LINKS TO COMPENSATED LINKS.LEARN MORE.
Are you looking for the perfect gift for Shakespeare lovers? You have come to the right place. There are many funny and amazing Shakespeare gifts, and this gift guide will help you find the best.
1.
Hamlet Glass
When you're looking for cool Shakespeare gifts, this Hamlet glass is an excellent choice! This 11-ounce glass weighs in at 11. This unique glass is 11 oz.
You might also be interested in a Romeo and Juliet-themed glass from Well Told. Both of these are amazing!
2.

Gifts For Shakespeare Lovers
Another fun item of Shakespeare merchandise is this Shakespeare Magnetic Bookmark. A bookmark of William Shakespeare is a must-have for any Shakespeare fan.
The bookmark is approximately 22.4 inches in length and magnetic so that you can attach it to the pages of your book. And this little Shakespeare bookmark is sure to bring a smile to your face anytime you see it, and if you like you can also get this design as an enamel pin!
Buy the Shakespeare Magnetic Bookmark now!
3.
Shakespurr Enamel Pin
You are looking for a Shakespeare gift that will appeal to someone who loves puns and cats? If so, you definitely need to get this Shakespurr enamel pin!
The pin measures 1.25 inches and depicts a cat with a ruff and golden earring, and sitting next to a quill pen. This pin is the perfect accessory for any Shakespeare lover to add style and flair to their jacket, backpack, or other items. It's a great gift!
Buy the Shakespurr Enamel Pin now!
4.
Candles from Witches Brew
Shakespeare inspired gifts don't get much better than this Witches Brew Candle, inspired by the witches of Shakespeare's Macbeth.
The candle weighs 6 oz. This candle has a 35-hour burn time. Your home will be filled with spiced harvest scents like cranberry and plum, orange peel, saffron and black amber. This scent is perfect for candle-lovers and Shakespeare fans!
Buy the Witches Brew Candle now!
5.
Hamlet Book Enamel Pin
Are you looking for gifts for Shakespeare lovers who love Hamlet? If so, this Hamlet Book Enamel Pin is the perfect choice!
This pin measures 1″ and is a great way to show your love of Shakespeare. You can wear it on a jacket or on a bag or backpack, or anywhere else you like to show it off.
6.
Shakespearean Insults poster
When you're looking for funny Shakespeare gifts, this Shakespearean Insults Poster is the perfect thing!
This Shakespeare insults poster measures 18×24 inches and includes 100 of Shakespeare's best zingers. You can find them all by topic and each insult is labeled with the play they are from.
Buy the Shakespearean Insults Poster now!
7.
First Folio Greeting Cards
Another excellent Shakespeare item is the collection of First Folio greeting cards you can buy. This Shakespeare stationery is a great gift for someone who enjoys writing and receiving letters. But the cards can also be used as art to hang on your walls, instead of being sent in the mail.
These First Folio Cards come in many designs, but all use the original 1623 text and have woodcut illustrations. These cards are designed by Louisa Hare, and printed using blocks on a Heidelberg letterpress in the vicinity of Shakespeare's hometown, Stratford-upon-Avon.
Buy the First Folio Cards now!
8.
Cookie cutter William Shakespeare
What's better than a Shakespeare cookie cutter? Nothing! There is nothing better than sugar cookies made in the Bard shape.
This cookie cutter measures 4 inches tall and can be decorated with frosting or unfrosted. This is the perfect snack to accompany your favorite Shakespeare play.
Buy the Shakespeare Cookie Cutter now!
9.
2.B Enamel Pin or Not
Are you looking for funny gifts inspired by William Shakespeare? This hilarious 2B or Not 2B enamel pin is the perfect choice!
This pin is 3cm in length (approximately 1"). It can be worn on jackets, bags, and other accessories to make a subtle reference to Shakespeare. This pin will be loved by everyone!
10.
Shakespeare Literary Can't Even Wear a Shirt
When looking for presents for Shakespeare lovers, there are some fun pun options to choose from…like this Literary Can't Even shirt!
You can pick from many colors to ensure you have a great gift for the Shakespeare lover in your life.
Buy the Literary Can't Even shirt now!
11.

Gifts For Shakespeare Lovers
Shakespeare themed gifts for the home are also something to consider, and this Exit Pursued by a Bear Art Print is a fun choice!
The print measures approximately 7×10 inches. It is printed on a page of a 1920's Shakespeare book. Each art print is unique because it is printed on the page that Shakespeare was printed on. This stage direction and quote are as iconic as they come, making it a great choice for those who love The Winter's Tale or the Bard.
Buy the Exit Pursued by a Bear Art Print now!
12.
To Your Own Self Be True Bracelet
Shakespeare jewelry is another wonderful gift idea for Shakespeare lovers, and this To Thine Own Self Be True bracelet is a lovely option!
This cuff bracelet measures 1/4 inch in width and is made from pewter. It is also hand stamped with care. This bracelet makes a wonderful gift for anyone who loves to keep the words of the Bard close at their fingertips.
Buy the To Thine Own Self Be True Bracelet now!
13.
Shakespeare Quote Journal
Another option for Shakespeare gift ideas is this nice Shakespeare Quote Journal, which features a picture of Shakespeare and a quote on the front cover.
The journal measures A5 in size and has 100 pages. It also includes a bookmark ribbon, elastic closure band and a bookmark ribbon to help keep it clean. It has a Shakespeare quote at the front. However, it can be used for anything you want, as the pages are completely blank.
This is a great gift for Shakespeare fans who love to journal, take notes, and other creative activities.Gifts For Shakespeare Lovers
Buy the Shakespeare Quote Journal now!
14.
Double Double Toil and Trouble Enamel Pin
Are you looking for Macbeth gifts This Double Double Toil and Trouble enamel pin is certainly the cutest gift you could choose!
The 1″ pin is available in black or white, with your choice of gold and silver plating. This gives you many options for choosing the perfect enamel pin. If you prefer, there is also a magnet option for the needle minder.
Buy the Double Double Toil and Trouble Enamel Pin now!
15.
Although she is but a tiny mug, she is a fierce one
Shakespeare related gifts often contain some of his most iconic quotes, which is exactly the case with this Though She Be But Little She is Fierce Mug.
__S.141__ It is dishwasher-safe, but it will last longer if it is washed by hand instead of being put in the dishwasher. This mug will quickly become a favourite with its iconic quote.
Buy the Though She Be But Little She is Fierce Mug now!
16.
Shakespeare Stone Coasters
Another idea of Shakespeare products that would make an excellent gift is this Shakespeare Stone Coaster Set. These coasters will add some Shakespeare flair to your home.
These coasters feature Shakespeare as well as classic works. They are great for both hot and cold drinks. These coasters are also protected from scratches by being backed with cork. These Shakespeare gifts are simply amazing!
Buy the Shakespeare Stone Coasters now!
17.
Shakespeare Bookmarks – Bad Reviews
Everyone who loves Shakespeare knows that there are people out there that don't get it. What is the deal with Shakespeare? And that's why these Bad Reviews of Shakespeare bookmarks make the perfect gift for a Shakespeare fan!
These hilarious bookmarks have received rave reviews such as "And then anOTHER character with a long confusing named turned up" or "Boy, oh boy was that long!"
Buy the Bad Reviews of Shakespeare Bookmarks now!
18.

Gifts For Shakespeare Lovers
If you're looking for more funny gift ideas for Shakespeare lovers, you can't go wrong with this Bard to the Bone Shirt!
This shirt is a conversation starter. Your favorite Shakespeare fan will love it!
Buy the Bard to the Bone Shirt now!
19.
Lit in Literature Mug
And finally, another excellent gift is this Lit in Literature mug. This mug is sure to be a hit with Shakespeare lovers everywhere, from the Shakespeare image in sunglasses to the phrase.
Buy the Lit in Literature Mug now!
We Collected Information From Internet About "Gifts For Shakespeare Lovers " If There Is any Mistake About" Gifts For Shakespeare Lovers" Article Please Inform Us